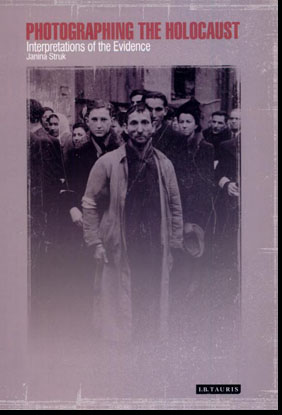 Photographing the Holocaust: Interpretations of the Evidence
(I.B. Tauris, 2004)
This book tells the story of the use of images of the Holocaust from 1939 to the present day. I examine how they have been subjected to a perplexing variety of treatments: variously ignored, suppressed, distorted and - above all - exploited for propaganda purposes. Photographs were taken by all the protagonists, during the Second World War including the Nazis, their collaborators and the "soldier tourists" in the ghettos; by the Jews themselves, their sympathisers and the resistance movements in the occupied territories; and by the Allied forces at the end of the war.
This book also asks many questions, including whether or not these images can serve as evidence of the events they were depicting. Their provenance and true meaning have more often than not taken second place to the uses to which political interests have tried to put them, from the desperate attempts of war-time underground organizations to prove what was happening in the ghettos and camps to the memorial museums of Europe, the USA and Israel today.
Photographing the Holocaust recounts the history of the use and abuse of Holocaust photographs and illustrates the stories it tells and the questions it explores with a wide range of images.
Reviews:
London Review of Books:
"excellent book...wonderfully modest and informative". Thomas Laqueur, vol 26, no 21, 4 November 2004.
Rabbi Dr Charles H Middleburgh, Executive Director, Union of Liberal and Progressive Synagogues writes:
"Photographing the Holocaust now numbers among the top ten books on the Shoah that I have ever read. The author seeks carefully and sensitively to explore the way in which photography has been used in connection with the Holocaust... Janina Struk forces the reader to think again, not just about the matter of using photography as a means of recording scenes of deprivation...but of dimensions of the Holocaust that can all too easily get ignored.... Photographing the Holocaust has a raw power that far exceeds its 216 pages of text and should be essential reading for all who seek an ever deeper understanding of an almost incomprehensibly evil series of events that have scarred the modern world forever". 2004
Source: The Photographic Review:
"brilliant book... poignant... Struk's book is a welcome counter to even great history writing that is innocent of the problem of representation. Her book is written with style and pace, uses theory without being weighed down by it, and is full of new research... Every historian should read this book and learn what it means to be literate in the present day".
John Taylor, Issue 39, Summer, 2004
Newsweek:
"How the Camera Sometimes Lies", Ginanne Brownell, 23 February 2004.
http://www.newsweek.com/id/53349
Socialist Review:
"Picture Imperfect", Nick Grant, May 2004
www.socialistreview.org.uk/article.php?articlenumber=8908
H -Net Online Reviews (Humanities and Social Sciences Online):
"Photographing the Holocaust tells us a great deal about the production, circulation, use and misuse of photographic images of the Holocaust .... Struk's book is particularly informative about the way in which the Cold War influenced the use of Holocaust photographs".
http://www.h-net.org/reviews/showrev.php?id=12330
Buy Photographing the Holocaust from Amazon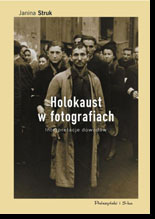 Polish Edition Review Fototapeta, April 2007
http://fototapeta.art.pl/2007/str.php